THE POWER OF COMMUNITY—CAPE ANN READS
A Town Tradition Becomes A Children's Story…
The Tree in Dock Square was inspired by a true story in Rockport, Massachusetts. Jean's husband grew up there. When he was twelve, he and his father planted a three-foot sapling in the backyard. It grew into a towering giant that began to threaten the house during winter storms. Rather than cutting it down and hauling it away, the family offered the pine to Rockport for its annual tree lighting ceremony. To their delight, the tree was selected from among several others being considered. The joy was short-lived, though. Jean's father-in-law had died three years earlier. As workers cut down the pine, it felt as if the family were losing him once again. But that changed on the night of the ceremony. When Rockport switched on the lights in Dock Square, the power of community spirit and tradition transformed their sorrow back into joy.
View Tree's Journey to Dock Square Photos.
Experience Christmas in Rockport Music Video. (Lyrics by Dorothy Ramsey Stoffa, tree lighting emcee for thirty-two years. Music by David Alpher, ASCAP composer.)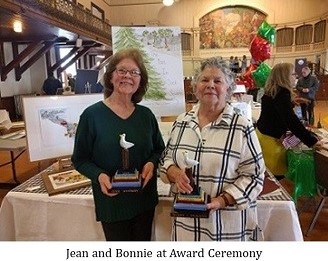 The Book's Journey...
"Fantastic Cape Ann Reads event at Gloucester City Hall. Thanks to our librarians, Mayor Sefatia Theken, Catherine Ryan and all who made it happen!" -Senator Bruce Tarr
Cape Ann Reads Hits The Road...
Once Upon a Contest was a traveling exhibit in Cape Ann that showcased the original award-winning artwork and books selected by contest judges Pat Lowery Collins, Giles Laroche, Anna Vojtech, Cape Ann's librarians, and the owner of Dogtown Books, Bob Ritchie. The exhibit was launched on December 18, 2018, with a reception at the Cape Ann Museum in Gloucester and was made possible with support from the Bruce J. Anderson Foundation and the Boston Fund.
Learn More About the Exhibit:
About the Project Director for Cape Ann Reads:&nbspFor more than 20 years, Catherine Ryan was an art dealer and gallery co-director in New York City. During that time, she worked with renowned artists such as Laurette de Brunhoff, author and illustrator of the Babar Children's Book Series. Since moving to Gloucester, Catherine has volunteered for many civic projects on Cape Ann, including Gloucester's Harborwalk, the Downtown Cultural District, and murals at City Hall. In 2015, Cape Ann Reads asked her to serve as project leader overseeing its public events, the picture book contest, and publication of the winning book.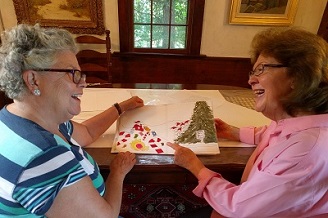 When Cape Ann Reads called for artists to work with writers entering its picture book contest, Bonnie volunteered, and Cape Ann Reads paired her with Jean.